Undergraduate Peer Advisors | 2019–2020
Peer Advisors discuss the Department, courses, opportunities, and their personal experiences with current or prospective students and their parents/guardians. Peer Advisors help with events such as Major Declaration Nights, Cal Day, and Commencement. They are also "on-call" advisors available to email with, or take a call from, an incoming or prospective student.
Get to Know the Peer Advisors
Randall Bellyea
I originally came to Cal to study Political Science, and did not come to the TDPS department until my second year. In light of this, I know a lot about how advising works not only in this department but others, and how to navigate the campus and its resources. If you ever want to talk to anyone about TDPS, have any questions about the majors or minors, want to discuss life, or goals, or hobbies, or anything else, I am here for you! I have scholastic and professional experience in both theater and dance, and am always happy to talk about any of my experiences.
---
Michael (Mikee) Loria
Before coming to Berkeley, I thought theater was just a hobby. But, after I took Theater 10, I realized that theater was something I could dedicate my life to. I have a deep passion for telling stories and connecting with other artists. Outside of TDPS, I'm involved with Barestage Productions, Bindlestiff Studios, Kollaboration SF, DKAP, and a founding member of ARC Repertory Theatre. If you ever need a heart-to-heart or someone to talk to about majors, minors, or theater life in general, feel free to reach out to me! I'm an email away!
---
Swetha Prabakaran
Outside of TDPS, I'm part of Cal Performances' Student Ambassador for the Arts and teach for the Sutardja Center for Entrepreneurship and Technology. Feel free to ask me any and all questions you may have about navigating Cal, TDPS, or juggling multiple interests at once. I have scholastic and professional experience in dance of many varieties, from classical Indian to musical theatre, and am always happy to chat about anything on your mind!
---
Ana Talos
I am a transfer student from Los Angeles City College where I studied Theatre in the Theatre Academy. At Berkeley I am majoring in Theater and Performance Studies and Comparative Literature. I am also a mother and I came here alone from Los Angeles to get a BA. If you ever need any advice or if there is anything you need assistance with please contact me.
---
Khoi Vo
Through the hardships that I have experienced as a Vietnamese immigrant and an English learner, I have developed a passion for helping underrepresented communities navigate resources, and spreading cultural awareness through theatrical productions and/or events. I am also a Peer Mentor at UC Berkeley Extension-International Programs, an Ambassador of the student-led Vietnamese Student Association, Culture Show, and the Director of Logistics of Salsa at Cal. If I'm not doing any of these, you'll probably catch me suffering or thriving in Moffitt or Eshleman!
---
Undergraduate Student Liaisons | 2019–2020
Student Liaisons serve as a bridge between students and faculty and form a committee under department Vice Chair. They serve leadership roles and plan student events, including the Annual Alumni Panel and the Senior Picnic, and help to orient fellow students to department opportunities and processes.
Liaisons are available for drop-in office hours on Mondays 1–2pm in Dwinelle Hall 44A. Please feel free to drop by with questions and concerns about the department and our programs.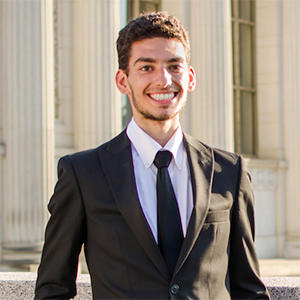 Randall Belyea
Fourth Year | Theater, Dance, and Performance Studies (Double Major)
Sophie Herbeck
Third Year | Theater and Performance Studies, Computer Science
Get to Know the Student Liasons
Randall Bellyea
Seeing how innovative and collaborative the department is drew me into the program, and I hope that I can help other students find and develop their passions! At Cal, I have had the pleasure to work on Polaroid Stories, Metamorphoses, Mechanics of Love, the Dream of Kitamura, and Berkeley Dance Project 2019. I have scholastic and professional experience in both theater and dance, and am always happy to talk about any of my experiences. I would also love to hear about yours, so please do not hesitate to contact me for anything; I am ready to take on the year with you!
---
Sofie Herbeck

I've loved theatre for years, because of the power it has to offer different perspectives through telling people's stories. I've experienced this firsthand at Berkeley through my participation in the 2018 production of the Vagina Monologues and in the Students' Experimental Theatre group (SXT). In my time here, I hope to continue learning and practicing more effective ways of using theatre to change people's outlook on life. If this sounds like something you're interested in, or if you're considering double majoring, or you just want to chat—feel free to reach out.
---
Kellyann Ye
I arrived at Cal intending biology, then worked on "Metamorphoses" in October 2017 as a deckhand and was utterly charmed by TDPS. Now, I also do electrics work for a local theater effects company, and am part of Students' Experimental Theatre, a campus group focused on unconventional performance. My interest is in political theater, using art to enact social change. I fell in love with theater because of the TDPS department members that I've gotten to work with so far, so please come hang out with me — I'd love to meet you all!
---
Executive Graduate Representative | 2019–2020
The Executive Graduate Rep acts as the student liaison for the Graduate Policy and Review subcommittee, which sets and revises policy for the graduate program in performance studies. The Executive Graduate Rep also co-organizes graduate town halls with the Head Graduate Advisor, facilitates elections for all other graduate-student held positions within the department, and acts as the key liaison to the department for graduate concerns.