TDPS Commencement Ceremony
Background image: 2018 Commencement Ceremony | Photo by Brittany Hosea-Small
Ceremony Details:
Monday, May 16, 2022 | 2–3 pm
Zellerbach Playhouse
Free / No reservation required
Mask-wearing strongly recommended for all attendees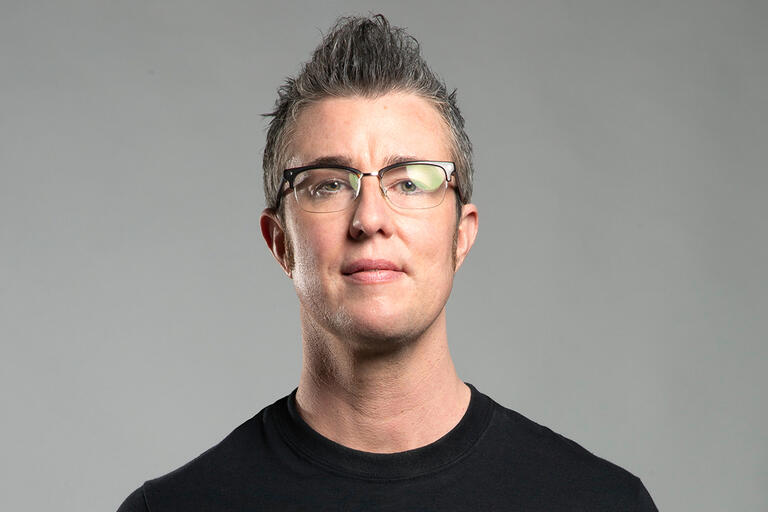 Sean Dorsey is a San Francisco-based choreographer, dancer, writer, teaching artist and cultural activist. Recognized as the U.S.' first acclaimed transgender modern dance choreographer, Dorsey has toured his work to more than 30 cities across the US and abroad—and taught with his explicitly trans-positive pedagogy in more than 35 cities.
Dorsey is a 2020 Doris Duke Artist and an inaugural Dance/USA Artist Fellow. He has been awarded five Isadora Duncan Dance Awards and the Goldie Award for Performance. In 2009, Dorsey was named in Dance Magazine's "25 To Watch;" in 2019, he became the first openly-transgender person on the cover of Dance Magazine.
A longtime social practice artist, Dorsey creates his works over 2-3 years in deep relationship with/in community. Dorsey's dances are powerful explorations of human experience—a fusion of full-throttle dance, luscious partnering, intimate storytelling and theater. Highly physical, accessible, rooted in story, and danced with precision and guts and deep humanity, Dorsey's works have been praised as "exquisite…poignant and important" (BalletTanz), "trailblazing" (San Francisco Chronicle) and "evocative, compelling, elegant" (LA Weekly).