I renegade when I'm in a rage
I got to cool down
But I'm under pressure

— Janelle Monáe, Turntables
Created by Latanya d. Tigner and Lashon Daley in collaboration with the company members, TURNTABLES centers the story of the Cal Bearettes and their struggle to find space and respect on UC Berkeley's campus. Despite being the first majorette-style dance team in the University of California system, these women of color are often relegated to practice in parking garages, are mocked during games, and are denied athletic funding. The Bearettes symbolize the trials that Black women and women of color have faced as they seek to find resources, provisions, and a safe place to call their own.
Traversing experiences of the 1960s sit-ins, TURNTABLES brings their current struggle into conversation with the Civil Rights Movement. In the 1960s, protestors staged sit-ins in order to stand up against being treated as second-class citizens. In 2021, the Cal Bearettes "stand" for the same reason.
In the HBCU majorette style, a "stand" is a sequence of eight dance counts. It generally occurs when two dance teams face each other and alternate their stands until the judges declare a winner. It is likened to a street fight or war, except that the opposing teams battle using their dancing rather than violence. Not only do they "stand," they also "sit," which is performed elegantly and slowly by the dancers. The "sit" is done with confidence in order to take up space. It is the "We're here!" moment. For the Bearettes, it is an opportunity to claim the space that they have the right to be in just like the 1960s sit-ins. It is a demonstration of their regalness as Black women and women of color.
Through popular dance, poetics, and competition, TURNTABLES explores themes of rage, joy, silence, opposition, and allyship.
Music that inspired the creation of TURNTABLES: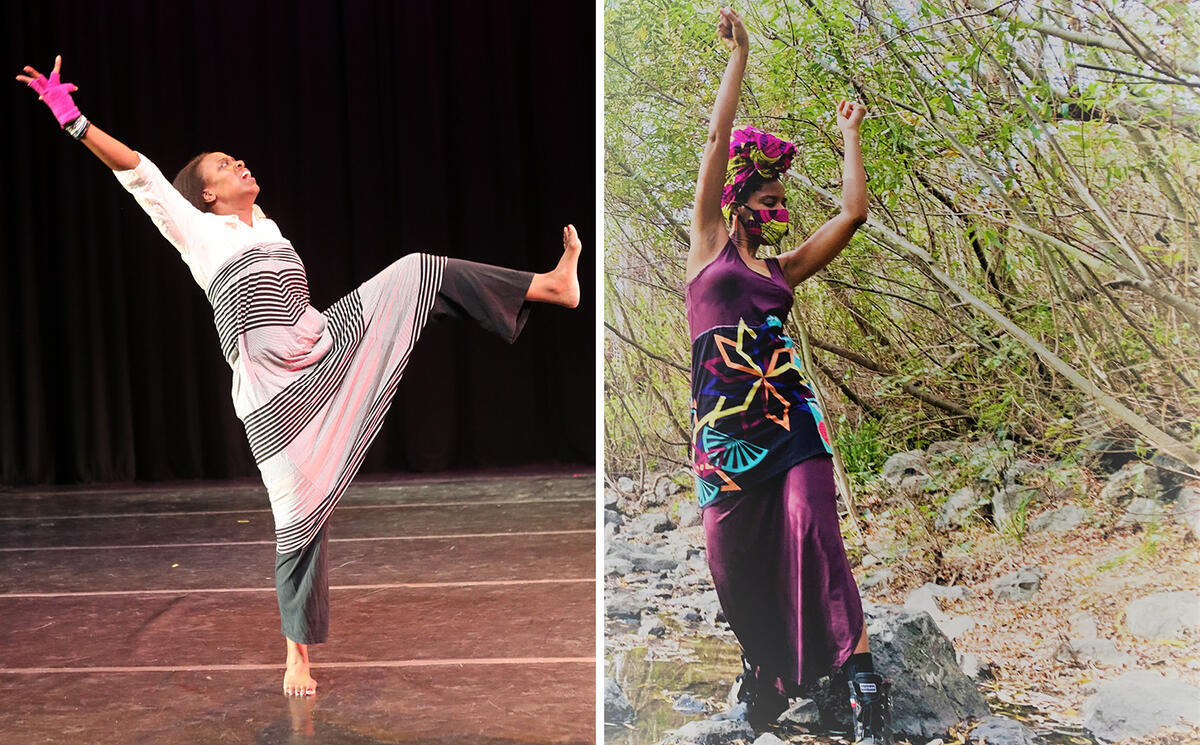 About the Directors
Latanya d. Tigner, Director & Choreographer
Latanya d. Tigner performs professionally with Dimensions Dance Theater, lectures at UC Berkeley and Mills College, and is certified in Talawa Technique™. Latanya has created commissioned works for Dimensions and other local cultural organizations including for Cal Shakes' critically acclaimed Black Odyssey, for which she was nominated for a Theater Bay Area Award in 2017. Latanya currently serves as Co-Artistic Director of the San Francisco Ethnic Dance Festival, is a founding member of Oakland Anti-Racism Organizing Committee, and is the curatorial director of Dancing Cy(i)phers, an annual symposium that connects the coded languages of African rooted dance through her ongoing research.
Lashon Daley, Director & Dramaturg
Lashon Daley is a PhD Candidate in Performance Studies at the University of California, Berkeley. Her dissertation, Black Girl Lit: Coming of (R)age Performances in Contemporary U.S. Black Girlhood Narratives 1989-2019, charts how literature, film, television, and social media has helped shape our cultural understanding of what it means to be young, black, and female in the U.S. As a scholar, dancer, storyteller, and choreographer, Lashon thrives on bridging communities together through movement and storytelling. In 2018, she won the Mark Goodson Prize for Distinguished Artistic Talent.
Dance Company
Brooke Barrett
Cara Green
Erin Sibel Sezgin
Isabel Desmet
Jeze Fabijanic
Joyce Chan
Keyarah Sylve
Maya Romero
Misako Ormiston
Nikki Cheung
Paridon Szittai
Taylor Oliver
Production Team
Kellyann Ye
Stage Manager
Lauren Ho
Assistant Stage Manager
Wendy Sparks
Costume Designer
Cara Green
Costume Design Assistant
Jack Carpenter
Lighting Designer
Ryann Hirt
Assistant Lighting Designer
Tay Tay (Tai in) Chung
Assistant Lighting Designer
Ben Juodvalkis
Music & Composition